Home
» Manchester: Southern Cemetery
[Previous entry: "Manchester: Platt Fields Park"] [Next entry: "Manchester: Overview"]
Manchester: Southern Cemetery

Multimap

Directions: Head south from Whalley Range on Withington Road. Take Mauldeth Road west and then head south on Moor Road. Rather far from Whalley Range. I've heard that the number 11 bus out of Piccadilly Station goes right to the Cemetry, erm... Cemetery.

Importance: Cemetery frequented by Morrissey and Linder and inspiration for "Cemetry Gates."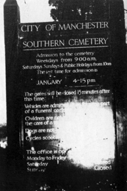 Photo from The Darkened Underpass.